Top Fertility Destination — Scenic Mediterranean Town of Nicosia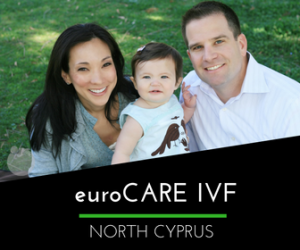 In Vitro Fertilization — referred to as IVF — is a remarkable treatment option at euroCARE IVF Center in North Cyprus for couples who are struggling with infertility.
Led by expert fertility experts, our team in Nicosia strives to ensure that your journey to parenthood through our unique IVF program is as relaxed and comforting as possible.
As the top fertility clinic in Cyprus, euroCARE IVF is committed to combining excellent medical care with warm, compassionate support by our international patient coordination team.
All procedures required during an IVF cycle, including ovarian stimulation and monitoring, egg retrieval, and embryo transfer are performed on-site in our state-of-the-art facility.
Planning for In Vitro Fertilization
In vitro fertilization (IVF) is a highly effective technique used to fight infertility. In vitro fertilization refers to a procedure in which an egg (or oocyte) is fertilized with male sperm to create an embryo.
The embryos are observed and grown in our IVF laboratory — where they are graded for quality and reintroduced to the recipient's uterus at a multicellular stage known as the blastocyst stage.
Our patients are required to be in Cyprus for 8 to 20 days.
Destination Parenthood – IVF Treatment
STEP 1 | Oral Contraceptives and Ovarian Stimulation
Some patients will receive oral contraceptives at the start of their IVF cycle. The possible benefits include:
Shortened use of ovarian suppression drugs.
Decreased chance of developing ovarian cysts prior to starting gonadotropins.
Improved ovarian response during ovarian stimulation resulting in better egg recovery.
Ovarian stimulation allows patients to begin the process in their own home. We recognize that many of our patients travel from abroad to undergo IVF in North Cyprus, so we have adjusted our programs to make it more accommodating for our patients.
We will teach you how to use injectable fertility medicines to encourage the growth of multiple follicles. Your specific stimulation medication depends on your individual protocol.
STEP 2 | Retrieving the Eggs
After taking the follicle stimulating hormones, our dedicated IVF nurses will monitor the eggs to ensure they are mature. When the eggs are ready, an hCG injection is given to finalize the eggs maturity levels in the ovaries — 36 hours later the egg collection procedure will take place under a light sedation.
Throughout the egg collection procedure, our euroCARE IVF doctors will use an abdominal ultrasound to see inside. During this process, a very thin needle is inserted into the vagina and into each ovary. The contents from each follicle in the ovaries will be drawn into a tube and delivered to our embryo laboratory for examination. The egg retrieval takes approximately 20-30 minutes.
STEP 3 | Sperm Collection
A semen sample is generally collected on the day of retrieval and processed by the laboratory for the IVF procedure. In some cases, a frozen sample can be used, particularly when a sample from a sperm donor is necessary.
STEP 4 | Fertilization
At euroCARE IVF, we use ICSI (intracytoplasmic sperm injection) to fertilize the eggs.  With ICSI, our doctors are able to select the best sperm from the sample and inject directly into each egg.  On the day after the retrieval, we will call you and let you know the number of eggs that successfully fertilized.  Our expert laboratory team will monitor the fertilization process and in turn the resulting embryos as they develop over the following days.
STEP 5 | Embryo Transfer
Embryo Transfer will take place three to five days after the egg retrieval. The timeline is based on what our infertility specialists and embryologist determine will be most successful.Those chosen are suspended in a fluid through a catheter. This catheter will be inserted into the uterine cavity to place the embryos chosen for transfer.
Embryos that are not chosen for transfer and that meet freeze criteria will be frozen and stored for later use, if you choose. A pregnancy test is performed approximately two weeks after your embryo transfer.
At euroCARE IVF, we provide affordable IVF treatment at a cost which is substantially below the cost of treatment in the US and all of Europe. Our reduced costs are a direct result of the volume of patients we serve and the modern equipment we use, which substantially reduces human error.