The top IVF specialists in North Cyprus – euroCARE IVF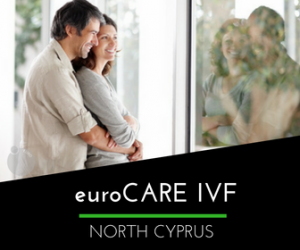 We believe you deserve the best possible chance to conceive — so it is our goal to give your options for success.
If you're feeling overwhelmed, please try not worry, the IVF team at euroCARE aims to make your IVF treatment in North Cyprus as relaxing and stress free as possible.
When in vitro fertilization (IVF) is your best treatment option, we can maximize your chances for success — without compromising high quality treatment or personalized care — through our innovative and affordable IVF Program.
IVF Packages at euroCARE IVF
Your first step is to contact one of our compassionate Patient Coordinators either by calling or sending an email via our Contact Us page. You will be advised in detail the cost of treatment, tests required, and the IVF process. Please take this opportunity to ask any questions or address any concerns at this stage, as it is very important you understand the treatment process fully from beginning to end.
We understand IVF can be costly — as it adds up when you are traveling abroad for treatment. We aim to keep our prices reasonable, while still being able to provide first-class service. There is a great deal to plan — from the tests, a month of treatment, time off work, organizing the medication, as well as your flights — all while mentally preparing yourself to take the steps of the treatment process.
We will do everything in our power to help make the process as stress-free as possible. We will help you locate a clinic for the tests, help you get the medication in plenty of time, and advise of suitable and available hotel options in Cyprus. During this time, our team will also advise you on how your treatment is progressing every step of the way.
We have treatment packages in place that encompass the full IVF treatment (scans, egg collection procedure, ICSI, assisted hatching, embryo glue, embryo transfer procedure), your half board accommodations (3-Star, 4-Star, and 5-Star hotels), your travel and return to either Ercan (ECN) or Larnaca (LCA) airports, plus all transfers for your appointments at the Clinic with the Doctor.
Basic Treatment Steps at euroCARE IVF
Step 1 – Testing
Before IVF treatment there are tests that need to be carried out in order for our IVF doctors to assess your fertility levels and prescribe the correct dose of medication you will need to take before traveling to Cyprus.
Tests Include:
Hormone blood tests: FSH (Follicle Stimulating Hormone), AMH (Anti-Müllerian Hormone), TSH (Thyroid Stimulating Hormone), E2 (Estradiol) and Prolactin
Trans-vaginal ultrasound scan: Antral Follicle Count
Semen analysis
Patients may also have the tests completed in Cyprus. If this is desired, it is preferred that you arrive in Cyprus on the first day of your menstrual cycle and stay for approximately 20 days.
Step 2 – Medication
You will need to take medication before arriving at the center and the tests will determine the correct dose. We will send you a prescription and a medication protocol clearly showing what medication to take and when to take it and advise options for obtaining the medication. We work with pharmacies in the UK that can deliver the medication right to your door.
The stimulation medication is in the form of subcutaneous injections, the purpose of which is to stimulate the growth of the follicles that contain the eggs and to prevent premature ovulation.
Step 3 – IVF/ICSI Treatment
Day one of your menstrual cycle marks day one of the treatment process and day 2 is the beginning of injections. On day 9, you will need to fly to Cyprus. The Doctor will also require a scan during the stimulation phase to check your eggs development and advise further regarding the medication. The treatment process will follow the below schedule (though subject to change).
Day 1 – First day of period
Day 2 – Stimulation injections begin
Day 6 – Scan
Day 9 – Fly to Cyprus
Day 10/11 – Scan and hCG injection (when eggs are ready)
Day 13 – Egg and sperm collection
Day 18 – Embryo transfer
Please keep in mind this is a basic schedule as the hCG injection is administered when your eggs are ready which in turn will affect egg collection and embryo transfer day.
This is what we love to do — help you on your journey to parenthood. Here at euroCARE, our journey coordinators will help you plan your journey from start to finish.