Based in North Cyprus, the euroCARE team emphasizes quality of treatment combined with caring relationships.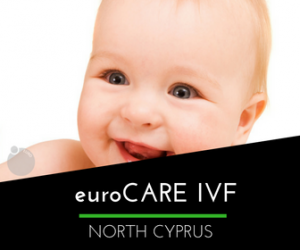 As with our other IVF treatments available, the first step is to contact one of our coordinators for full treatment information and ask about our Sperm Donation treatment packages on offer.
Our Coordinators will be happy to answer any questions you have on the tests that are required, the costs involved, how long you need to spend in Cyprus, what hotels we work with etc. It is important you fully understand what is involved and what we need from you to get started.
There are some things you do need to organize yourself such as the initial tests however we can help advise a clinic near to you that we know is reliable, reasonably priced and that are aware of the tests you need to have carried out. All you need to do is call and make the appointment at the correct time in your cycle.
When we have an idea of when you are ideally looking to come for the treatment we can get planning in Cyprus. We will offer you reasonably priced accommodation and make sure you are aware of all costs before you arrive. We can let you know which hotels are available, reserve your room and then once your flights are booked we will organize a driver to collect you at the airport. We will also make sure the clinic driver collects you for all your appointments with the Doctor and when finished he will drop you back at the hotel.
We will also organize your sperm donor based on the criteria you give us to work to. You can send us a photograph or simply advise what you are looking for in your donor such as height, hair color, eye color, skin tone, Nationality etc. Since donation in North Cyprus must be anonymous by law, we cannot show photos of the donor however we can give as much information as possible on the physical characteristics. There are many donors from all over the world available and so there is never a problem finding a suitable match.
The treatment packages we have in place encompass the full IVF Sperm Donation treatment i.e. scans, egg collection procedure, sperm fees, ICSI, assisted hatching, embryo glue, embryo transfer procedure. Also included is your nights stay half board at a range of 3*, 4*, 5* hotels, your collection and return to either Ercan (ECN) or Larnaca (LCA) airports plus all you transfers for your appointments at the Clinic with the Doctor.
Our Coordinators will be happy to advise full details.
Basic Treatment Steps at euroCARE IVF
Step 1 – Testing
In order for our IVF doctors to assess your fertility levels, the following test results are required:
Tests Include:
• Hormone blood tests: FSH (Follicle Stimulating Hormone), AMH (Anti-Müllerian Hormone), TSH (Thyroid Stimulating Hormone), E2 (Estradiol) and Prolactin
• Trans-vaginal ultrasound scan: Antral Follicle Count
From the results the Doctor can then confirm your personalized treatment plan. We will them be able to advise what medication you need, what dose and when you begin.
It is also possible to have the tests carried out at the Clinic in Cyprus however it will mean spending approximately 3 weeks in Cyprus for the full treatment. We understand this is not always possible due to family or work commitments for example and so the tests can be carried out in your home country in the months leading up to the treatment. This way you are able to begin the medication at home and spend a shorter time here – approximately 8-10 days.
Step 2 – Medication
The stimulation medication is in the form of subcutaneous injections, the purpose of which is to stimulate the growth of the follicles that contain the eggs and to prevent premature ovulation.
After your test results have been evaluated by our expert Doctors, we will send you a prescription and a treatment protocol clearly showing what medication to take and when to take it. We will also advise options for obtaining the medication as we work with pharmacies in UK that can deliver to your door.
Step 3 – IVF Sperm Donation Treatment
The steps of the treatment follow closely those of the standard IVF cycle. Day one of your menstrual cycle marks day one of the treatment process and on day 2 the injections begin. On day 9 you will be due to fly to Cyprus. The Doctor will also require a scan during the stimulation phase to check your eggs development and advise further about the medication at that stage. The treatment process will follow the below schedule (though can be subject to change)…
• Day 1 – First day of period
• Day 2 – Stimulation injections begin
• Day 6 – Scan
• Day 9 – Fly to Cyprus
• Day 10/11 – Scan and hCG injection (when eggs are ready)
• Day 13 – Egg (and sperm) collection
• Day 18 – Embryo transfer
This is just a rough schedule as the hCG injection is administered when your eggs are ready which can then in turn affect egg collection and embryo transfer day.
Our Coordinators will help plan your journey from start to finish answering all questions clearly & promptly.